Hurricane Preparedness and Safety Guide
Learn what you need to do to be ready and prepare for a hurricane or tropical storm. Your best defense is
to plan for hurricane season ahead of time to help you and your family stay safe as well as protect your house
and property before a hurricane reaches your location. Intended to serve as a resource guide with information
on all things hurricane related, this website is updated regularly to provide safety and preparation tips,
checklists, emergency contact phone numbers, insurance coverage, shelter information and more!
When is hurricane season? It starts June 1st and ends November 30th with peak activity occurring during the second half of August through the end of September. While this website offers tips on what to do before, during and after a hurricane or tropical storm, it's extremely important to pay attention to all official announcements on the radio and/or television from the National Hurricane Center as well as your local Emergency Management Office and follow their suggestions or requirements.

The decision as to whether to stay and ride out the hurricane or evacuate is an important one. It's strongly advised that you base your decision on the recommendations of local authorities as they are most knowledgeable about the storm's potential for death and destruction. It's also best to have a hurricane plan in place prior to the beginning of hurricane season. There may be things that you need to take care of well in advance of a storm heading in your direction.

The hurricane categories are based on the miles per hour (MPH) wind speeds...
Category 1 Hurricane = 74-95 MPH winds
Category 2 Hurricane = 96-110 MPH winds
Category 3 Hurricane = 111-130 MPH winds
Category 4 Hurricane = 131-155 MPH winds
Category 5 Hurricane = 155+ MPH winds
A review of your insurance policies prior to the start of hurricane season is critical in order to ensure that your assets are adequately covered. It's important to remember that once a hurricane watch has been issued, insurance providers will not issue additional coverage or new policies. It's smart to take inventory of your possessions (have a written record and photograph or videotape any items of value) well in advance. Keep your important documents in a safe place (such as a safe deposit box) and if you must evacuate, consider taking the documents with you.
If you plan to ride out the storm at home, identify the safest room (typically an interior room with no windows) and stay inside that room if a hurricane is expected to pass directly over your location.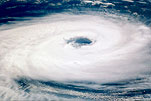 It's highly recommended that you maintain a "hurricane kit" in preparation for a storm.

Hurricane Preparedness Supply List / Kit:
First aid kit (bandages, gauze, scissors, aspirin, antacids, hydrogen peroxide, rubbing alcohol, antiseptic spray and thermometer)
Flashlight and/or lantern
Extra batteries (various sizes)
Matches and/or butane lighter
Can opener (manual/non-electric)
Extra prescription medicine
Battery-operated radio with weather band
Car charger for your cell phone
Fire extinguisher
Basic hand tool kit (hammer, nails, flat head and Phillips head screwdrivers, pliers, hatchet or axe, knife, handsaw, duct tape, heavy-duty work gloves and 100 feet of rope or heavy cord)
One-week supply of non-perishable food (canned or packaged/dry foods, milk and beverages)
If you have a baby, maintain a one-week supply of baby food, formula and diapers
For pets, buy a supply of food, cat litter, etc.
Disposable plates and eating utensils
Paper towels, napkins, toilet paper, trash bags
One-week supply of water (for drinking purposes)... two quarts per person per day
Toiletries such as toothpaste, sunscreen, soap, and other personal hygiene items
Bleach (plain/no additives) to purify water with 8 drops per gallon of water
Water purification tablets (available in many pharmacies)
Disinfectant spray
Mosquito repellent and netting
Portable cooler (to keep ice)
A grill or Sterno stove (no gas grills indoors!)
Sleeping bags
Canvas or plastic tarp(s)
Whistle or air horn
If you're in an area prone to flooding, consider including life preservers and an inflatable raft
Copies of important documents
One item you should include on your "hurricane preparedness to do list" that needs to be taken care of in the weeks or months prior to the beginning of hurricane season is the trimming of trees on your property. Trees should not only be trimmed but also thinned to allow strong winds to pass through them in order to prevent them from falling down during a hurricane. Damage to landscaping is virtually guaranteed during a hurricane so the better you prepare for it, the lesser the damage and loss.

If you have pets of any kind, be sure to include them in your hurricane preparedness planning. Remember that pets can be traumatized if left behind alone during a hurricane. If a category 3 hurricane (or higher) is approaching, consider evacuating and taking your pets with you but try to do so in such a way that it does not cause the pet undue stress. Please note that many shelters do not allow pets so you may need to make other plans to ensure your pets safety and well-being during a hurricane. If you have large outdoor pets or animals (such as horses, cows, pigs, chickens, etc.), be sure to have a plan in place for them, too.
Prior to its arrival, prepare for a hurricane by doing the following:

Get any cash you may need before banks close (and ATM's may not work due to loss of electricity).

Fill up your vehicle's gas tank because if there is a power outage in your area, gas pumps won't work.

Charge your cell phone battery as well as camera battery in case you need to take pictures of property damage.

Secure your home with hurricane shutters and bring loose yard or outdoor objects into your home.

First sanitize and then fill your bathtubs, sinks and other containers with water for sanitary usage.

To keep food fresh, turn the settings on your refrigerator & freezer to their highest settings in case of a power outage.

Turn off and unplug any non-essential electrical equipment in your house.

Locate and place important documents in a waterproof container.

After a storm or hurricane, it's important to note the following:

For your safety, please stay away from fallen wires and flooded areas.

Never run a generator inside your home; follow proper operating procedures.

If you need assistance in locating a shelter, contact the Red Cross.

If your house has been damaged and you need a short-term rental or more permanent housing, contact a Realtor.